Do you find that some photos recovered by digital photo recovery software, or due to other reasons, are corrupted? If you have such photos and don't know how to repair them, our JPEG Photo Recovery may help you to recover the original image.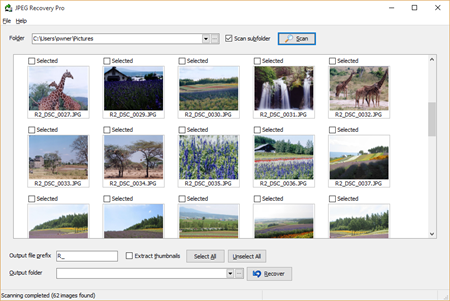 2020/11/13 JPEG Recovery Pro 6.2 Released

Handle Different JPEG Encodings
JPEG Recovery can handle most of the JPEG pictures encoded by digital cameras. No knowledge on JPEG is required.



Bulk Recovery
Support recovery of all pictures in a folder, and optionally pictures in the sub folders.



Ease of Use
Easy-to-use user interface. Select the unwanted parts on the photo using your mouse and then JPEG Recovery will remove them.



Try before Buy
Trial version allows you to test your picture(s) and save a sample (with watermark) to ensure proper recovery.



Recover JPEG Picture
Recover the JPEG picture that was corrupted after being restored by photo/data recovery software.

Bulk Recovery
Automatically search and try fixing the picture within folder and sub folders.

Extract Thumbnails
Extract possible JPEG thumbnails from a picture and save them in separated files.

Read more...